Todd Hanzelka, CPRIA   Managing Advisor, Iscential
Insurance…it's not sexy.  It's boring, and most commercials don't talk about what insurance does, they only talk about price.  Sure, price is important, but you know the adage…you get what you pay for.  What you probably don't know is when you buy an insurance contract (it's not a policy it is a contract), you waive two rights you have as a natural-born citizen of the United States: your right to defend yourself and your right to decide for yourself.  Would you give away those two rights to the lowest bidder in what could be one of the worst times of your life?  Me neither.
When you start your professional life or start "adulting" you end up buying insurance for the typical things: an apartment, a car, eventually a house, then maybe a diamond ring, then another car and before you know it your career takes off and you find success.  This leads to a bigger house, a better car, more drivers in the house, a second home, art, more jewelry, a watercraft, your domestic vacations turn into international vacations, your wealth grows, so does your family and then it happens: an insurance claim…a big insurance claim.  No worries, I'm covered right?  Well…maybe not.
As your success grows so do your exposures.  There are dozens of insurance carriers that insure all types of homes, cars and lifestyles but there are only a few, Private Client insurance carriers, that insure things a little differently.  They cater to and service successful individuals and families and understand the exposures that come with success.  If you have had the same insurance carrier since your career began or see your insurance carrier's commercials during the 10PM local news you might want to evaluate what you have and, more importantly, what you don't.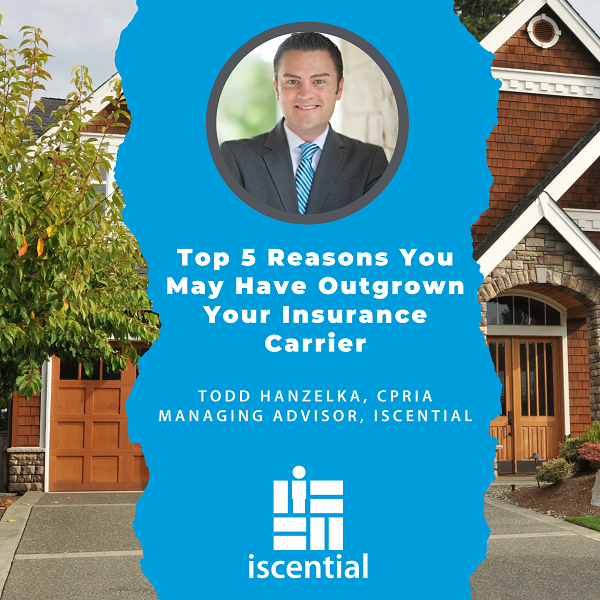 Here are 5 reasons why you may have outgrown your insurance carrier:
1) Size and quality matter…when it comes to your home.  
Most main street insurance carriers will seek out homeowners that have your typical suburban neighborhood home.  There's nothing wrong with these homes and most of us has lived in one of these houses.  However, if your success has allowed you to upgrade, whether that is in the size of your home or the quality of the construction materials, you owe it to yourself to research a Private Client insurance carrier that will provide vastly different coverage than your usual main street insurance provider.  In some cases, premiums may decrease if you align your risk with the right carrier, one that is designed to cater to a niche community.  The more specialized the home, the more specialized coverage you'll need.
2) I've looked and haven't found one yet: a company that offers the best product, with the best service at the best price. 
Sure, Wal-Mart may have the best prices but you'd be hard pressed to find an associate that can advise you on the differentiators of the product you're buying and follow up with you after the sale to make sure you're satisfied or have any questions.  Neiman Marcus or Nordstrom will provide you a fine-quality product and you can return anything you purchased and receive no hassle, but there is a price tag associated.  Time is our currency and most of us are broke. If having best-in-class service is a top value proposition, you need to consider a Private Client insurance carrier.  These carriers pride themselves on the quality of service they provide and assistance they give in your time of need.
"Time is our currency and most of us are broke."
3) Your car is no longer a form of transportation, it's a statement of your success.
When you step into the luxury automotive space and invest a sizable 5 to 6-figure amount into your automobile it's time to rethink how your vehicle would be handled in the time of a claim.  Will your $80,000 vehicle get a used part or an OEM part?  Will you be capped on your daily rate to rent a car during a claim and end up getting a loaner you wouldn't feel safe in?  Will you get a depreciated amount for your totaled vehicle or an agreed value?  Will your insurance carrier inspect the airbag sensors to make sure they meet manufacturer specifications or send you off into traffic and cross their fingers?  If you are driving a luxury brand, a technological or performance vehicle you should certainly engage with a Private Client carrier.
4) Stuff adds up. 
Jewelry, art, wine, firearms, timepieces, handbags…they get purchased and collected and if your collection is growing you need to consider the coverage a Private Client carrier will provide.  Worldwide coverage, accommodation of escalating values at the time of loss, storage recommendations, loss prevention measures, valuations.  Private Client carriers are designed to insure items of value and protect the possessions you have worked hard to acquire.
5) Emerging wealth.
Emerging wealth.  Your hard work and success pays off and over time your assets grow.  Most main street insurance carriers are capped on the amount of liability coverage they will provide their insureds to cover their net worth.  You want an insurance carrier that will be able to provide the level of indemnity and defense to meet your growing wealth.  Private Client insurance carriers and their attorneys understand the liability exposures that exist for successful individuals and families, and you'll want to have peace of mind that in the event of a claim where you bear responsibility.  It is important to know your insurance carrier will have the capacity to defend and indemnify to protect your lifestyle.
————————————————————————————————————————————————————————
Understand what you have.  Understand your exposures and understand how your insurance carrier will react in your time of need.  If it's been a while since you've evaluated your personal risk management program, find a risk management advisor that can guide you through the differences of what you have and what you may need.  Your life has certainly upgraded…maybe your insurance company should, too?
Todd Hanzelka is a licensed insurance advisor and risk manager with Iscential, Inc. and is a Chartered Private Risk and Insurance Advisor (CPRIA) through the Private Risk Management Association; a certification program specifically developed for professionals in the high net worth industry.  He can be reached at 512-680-2978 or [email protected] for a consultation.
Don't follow us on social yet? Check us out
Iscential will continue to monitor ongoing developments related to the coronavirus (COVID-19), please know that nothing will compromise our commitment to take care of customers like you and the things you trust us to insure. We remain available to provide the same level of service you have come to expect. Please advise our office if you want to submit any claim for coverage with your insurance companies.
For further assistance and help navigating your business through COVID-19 head to the Small Business Administration's website here to find what resources are available for your business.